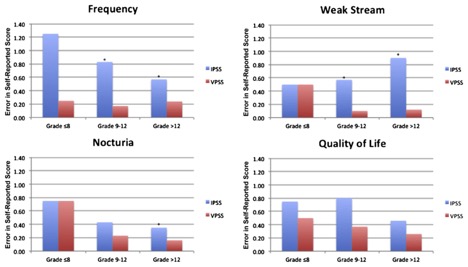 Objective: To evaluate the correlation between the International Prostate Symptom Score (IPSS) and the Visual Prostate Symptom Score (VPSS), a visual assessment of urinary stream, frequency, nocturia, and quality of life using pictograms, in a health safety net population.
Methods: Men presenting to San Francisco General Hospital with lower urinary tract symptoms completed the IPSS and the VPSS without and then with assistance. Statistical analysis was performed using the chi-square test, the Wilcoxon signed rank test, and the Spearman rank correlation.
---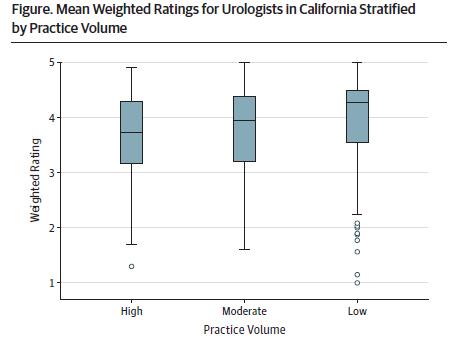 Objective: This study evaluates Medicare billing data to examine whether urologists with higher patient volume have lower online ratings from patients. 
Background: Online reviews are an increasingly popular tool for patients to evaluate and choose physicians.1 Although the accuracy, utility, and meaning of online reviews are debated by physicians, the patient perspective is a valued component of the physician-patient relationship and is likely to increase in importance.2,3 Reliable online reviews provide guidance for health care consumers as well as feedback to physicians. Online reviews are influenced by many factors, including patient wait times; however, little else is known about physician practice patterns and their effect on reviews.4 We evaluated Medicare billing data and online reviews of urologists in California, with the hypothesis that urologists with higher-volume practices would have lower patient ratings, potentially owing to shorter physician-patient interactions and increased wait times.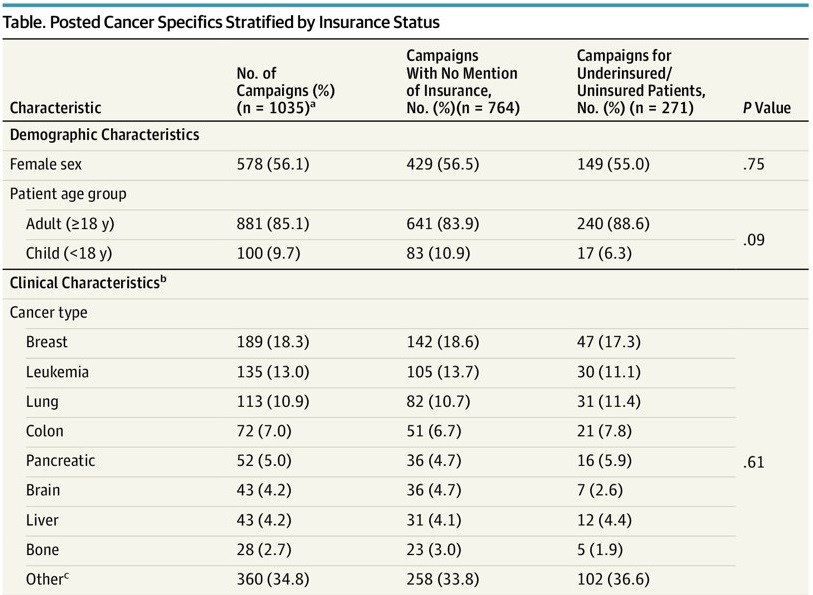 Background: Technologic innovations, expensive new therapies, and improved access to treatment have all contributed to the rising costs of oncologic care in the United States.1 The financial consequences for patients and their families are substantial. Patients with cancer often borrow money, avoid leisure activities, decrease food spending, sell possessions, go into debt, and/or declare bankruptcy,2 and they are at greater risk for disability or unemployment.3 These consequences are particularly great for patients who are underinsured or uninsured. Recently, online crowdfunding platforms are being increasingly used to supplement insurance and defray expenses, even for experimental and unproven treatments.4 We sought to characterize the use of crowdfunding to support oncology care needs, including any association between insurance status and other characteristics.
Methods: We identified the top 20 most prevalent cancers in the United States using data from the National Cancer Institute. Each cancer and US state was queried on the GoFundMe platform (www.gofundme.com) for 1000 individual searches (50 states × 20 top cancers = 1000 batches of searches).