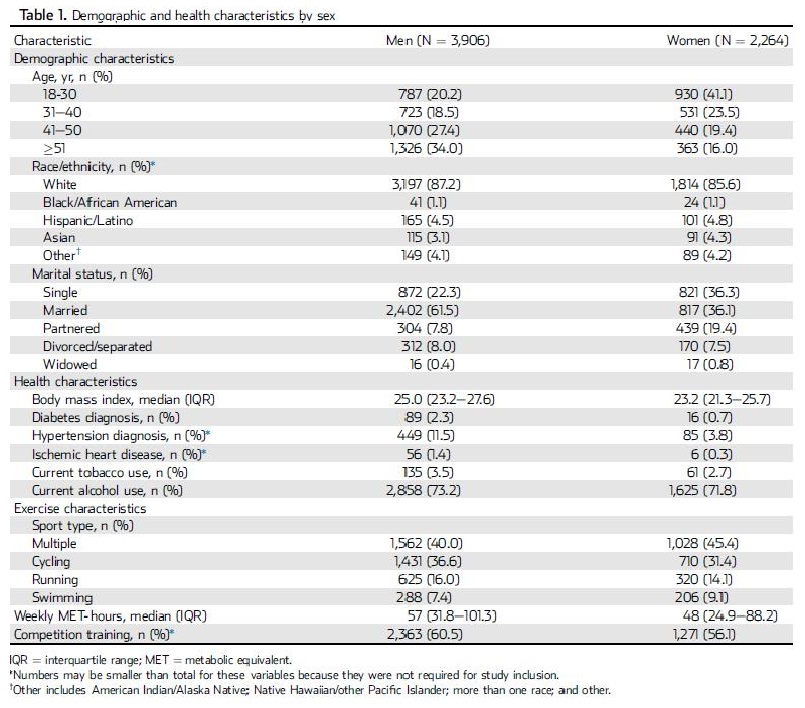 Background: Sexual dysfunction is common among adults and takes a toll on quality of life for bothmen andwomen.
Aim: To determine whether higher levels of weekly cardiovascular exercise are protective against self-reported sexual dysfunction among men and women.
Methods: We conducted an international online, cross-sectional survey of physically active men and women between April and December 2016, assessing exercise activity categorized into sextiles of weekly metabolic equivalent-hours. Odds ratios (ORs) of sexual dysfunction for each activity sextile compared with the lowest sextile were calculated using multivariable logistic regression, controlling for age, body mass index, diabetes mellitus, tobacco/alcohol use, sport, and marital status.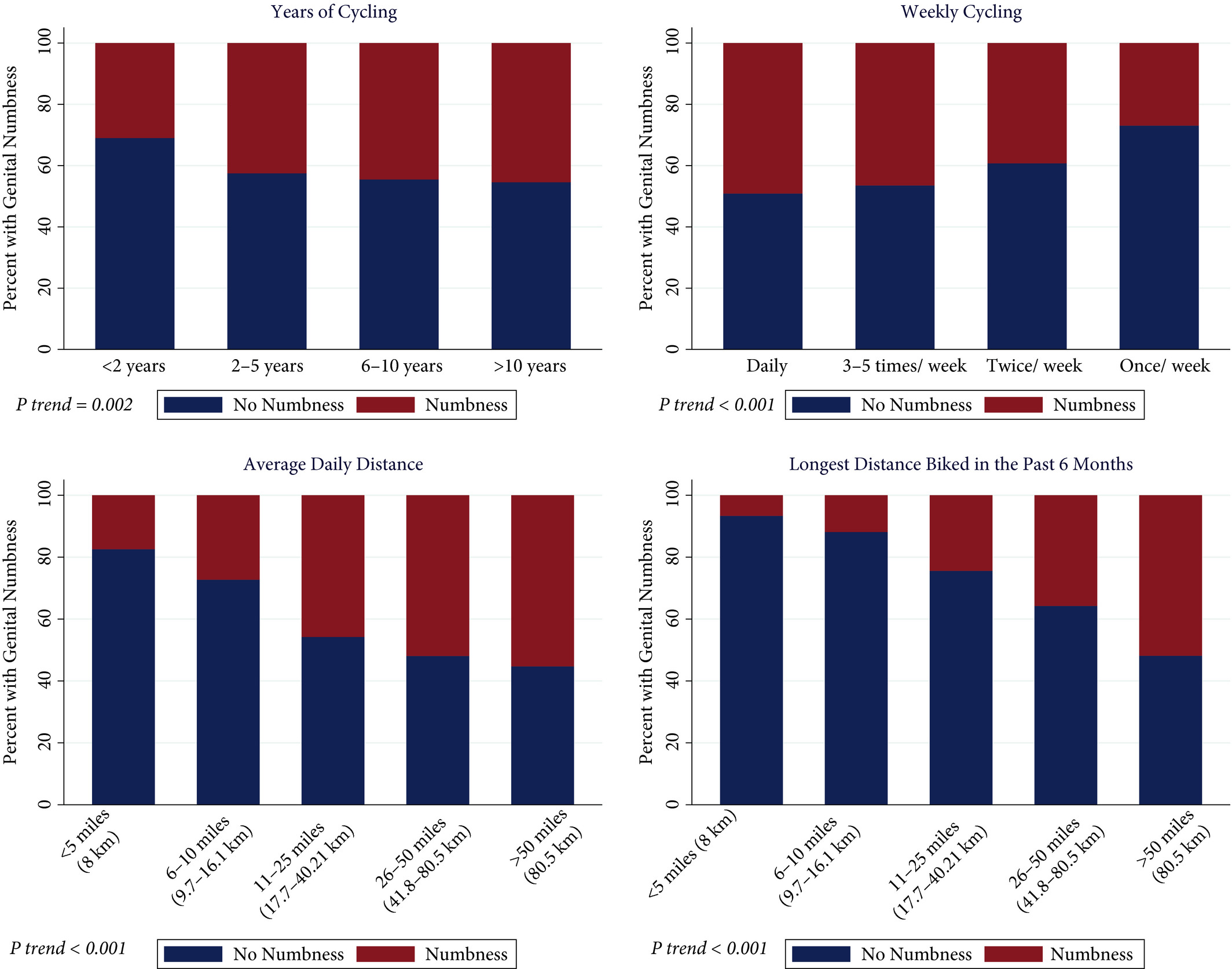 Objective: To assess the association of genital numbness and erectile dysfunction in male cyclists.
Subjects and Methods: Cyclists were recruited through Facebook advertisements and outreach to sporting clubs. This is a secondary analysis of a larger epidemiological population-based study that examined sexual and urinary wellness in athletes. We queried cycling habits and erectile function using Sexual Health Inventory for Men (SHIM).
Results: A total of 2 774 male cyclists were included in the analysis. Amongst cyclists, there was a statistically significant increase in the trend of genital numbness presence with more years of cycling (P = 0.002), more frequent weekly cycling (P < 0.001), and longer cycling distance at each ride (P < 0.001). Less frequent use of padded shorts (odds ratio [OR] 0.14, P < 0.001) and lower handlebar (OR 0.49, P < 0.001) were associated with numbness, but body mass index (BMI) (OR 1.1, P = 0.33) and age (OR 1.2, P = 0.15) were not.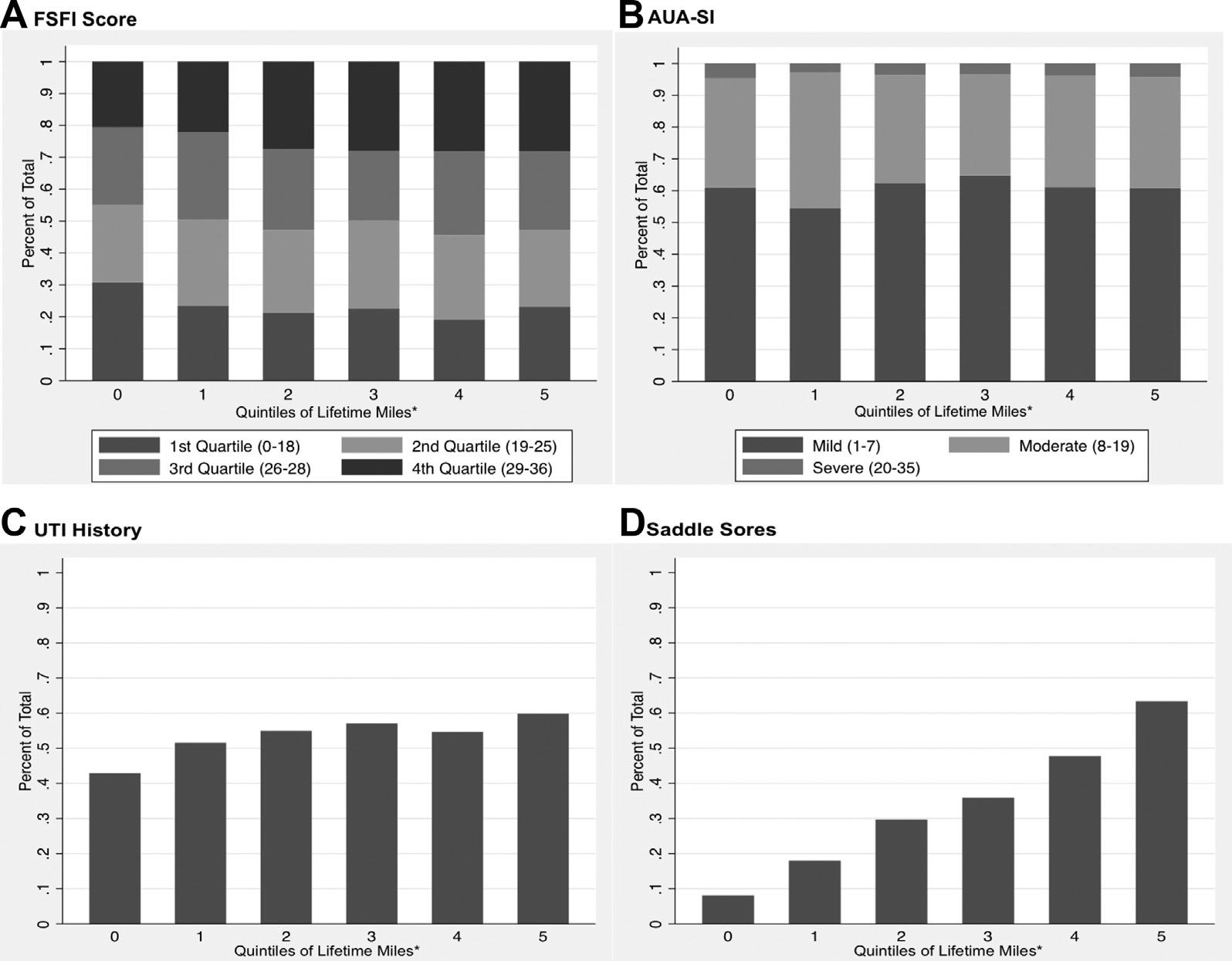 Background: Bicycle riding has become an increasingly popular mode of transportation and exercise, especially among women, and previous studies have demonstrated a relationship between cycling and sexual dysfunction, albeit using non-validated questionnaires.
Aim: We aimed to explore the relationship between cycling and sexual and urinary dysfunction.
Methods: Cyclists were recruited to complete a survey through Facebook advertisements and outreach to sporting clubs across 5 English-speaking countries. Swimmers and runners were recruited as a comparison group.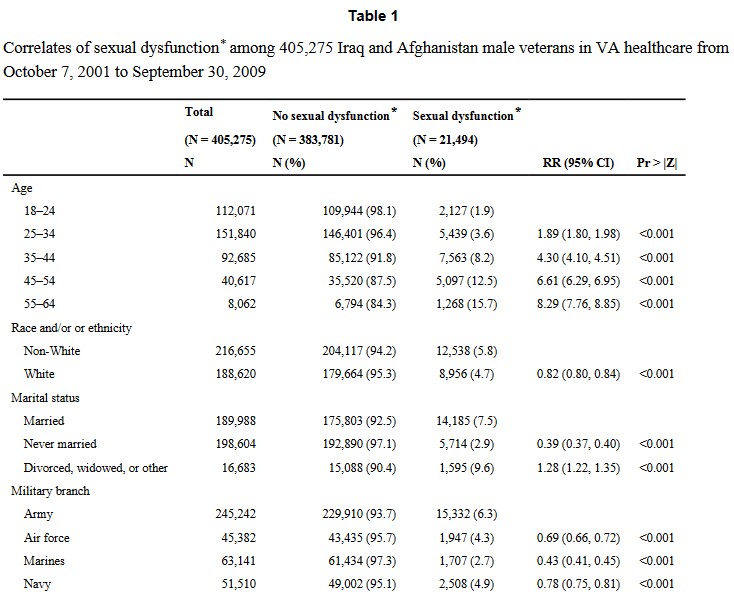 Aims: We sought to determine the prevalence and correlates of sexual dysfunction among male Iraq and Afghanistan veterans.
Methods: We performed a retrospective cohort study of 405,275 male Iraq and Afghanistanveterans who were new users of U.S. Department of Veterans Affairs healthcare from October 7,2001 to September 30, 2009 and had 2-year follow-up
Main Outcome Measures: We determined the independent association of mental healthdiagnoses and sexual dysfunction after adjusting for sociodemographic and military servicecharacteristics, comorbidities, and medications.