Qualitative analysis of Amazon customer reviews of penile clamps for male urinary incontinence (request PDF)
Neurourology and Urodynamics. First Published: November 9, 2020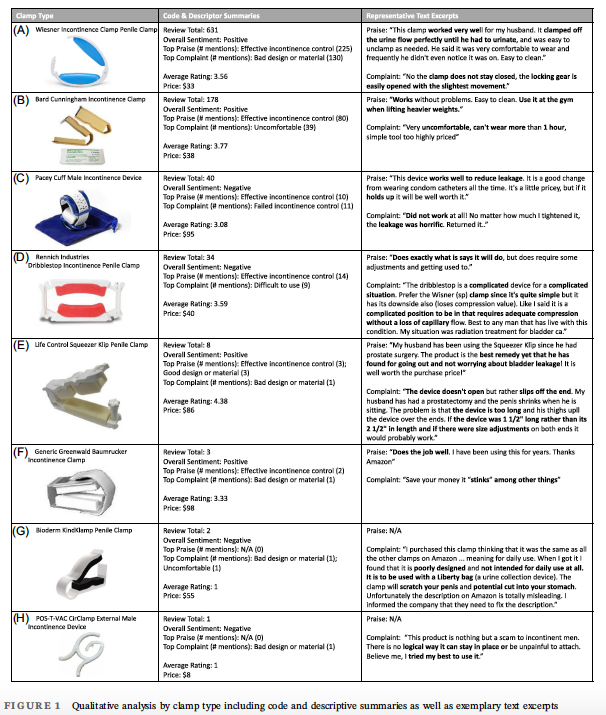 Aims: Penile clamps offer an alternative to manage male urinary incontinence in patients who are unfit for surgery. Patient experience with penile clamps is poorly understood. Our study elucidates patient opinions on commercially available penile clamps and the factors that associate with favorable and unfavorable opinions.
Methods: We collected Amazon reviews of all penile clamps marketed for male urinary incontinence from November 2011 to January 2020 and qualitatively assessed the overall sentiment towards penile clamps, key praises and key complaints. Covariates such as designated Amazon star rating were further explored for association with coding patterns.
Results: Amazon reviews of penile clamps were found to be more positive (n = 425) in overall sentiment than negative (n = 294). The most frequent praise was effective incontinence control (n = 334) and the most frequent complaint was bad design or material (n = 166). The majority of reviews were for lower priced penile clamps, had higher Amazon star ratings, were written for Wiesner‐produced clamps, and were written more recently (i.e., 2015–2020). Penile clamps with higher Amazon star ratings were more often coded positive and with a praise compared to lower rated penile clamps.
Conclusions: Penile clamps are seen favorably by users as an effective treatment modality for male urinary incontinence. User reviews suggest opportunities for improvement in penile clamp design. The most frequently reviewed clamp seen positively is the Wiesner Incontinence Clamp Penile Clamp whereas the most frequently reviewed clamp seen negatively is the Pacey Cuff Male Incontinence Device.